News
---

8.30.06 - Katey Sagal will guest star on Boston Legal this season.

6.28.06 - TV Land will premiere a six-part limited series My First Time tonight at 10pm. Each half-hour will chronicle the first "big break" of TV stars and look at sometimes never-before-seen footage of performances. The first episode features Henry Winkler and Katey Sagal.


6.24.06 - Zap2It.com: 'Futurama' Reborn at Comedy Central - New episodes on tap for 2008 "Futurama" will have a future after all, thanks to Comedy Central. The animated series, which last aired an original episode in 2003, will go back into production on at least 13 new episodes. The fresh installments will begin airing in 2008, also the date the show moves from Cartoon Network's Adult Swim to Comedy Central. More...

6.21.06 - Zap2It.com: Back to the Future Since its cancellation more than two years ago, devastated Futurama geeks have had little to no reason to live -- besides DVD sales, and plans for a straight-to-DVD movie slated for 2007. But last night came fresh hope, straight from the show's one-eyed, pink-haired leading lady. Actress Katey Sagal told Craig Ferguson that brand-new episodes of Futurama are on their way to television. More...

3.20.06 - The latest news is that there will not be any new episodes of Futurama, but there may be some straight-to-DVD movies.

1.4.06 - Variety reports that talks have begun at 20th Century Fox TV to put Futurama back into production and create a limited number of episodes — although it's too soon to tell where those episodes might end up.

10.27.05 - Zap2It.com: 'Futurama' Flies to Comedy Central The animated series "Futurama," which has enjoyed a long and healthy afterlife on the Cartoon Network, will be getting a new home ... in the future. Comedy Central announced Thursday (Oct. 27) that it's acquiring the Emmy-winning show, created by "The Simpsons" mastermind Matt Groening, from 20th Century Fox TV. More...

10.22.04 - Futurama cocreator David X. Cohen is teaming up with Ice Cube to produce Grandmaster Freak, an animated series for Fox about an early '80s hip-hop crew, Variety reports.

7.15.04 - Futurama received 2 Emmy nominations: Outstanding Animated Program (for Programming Less than One Hour) ("The Sting") and Outstanding Music And Lyrics ("The Devil's Hands Are Idle Playthings"). The awards ceremony will air live on ABC on Sunday, September 19th, from the Los Angeles Shrine Auditorium, and will be hosted by Garry Shandling.

1.20.04 - Futurama was nominated for a Writers Guild of America Award for the episode "The Sting," written by Patric M. Verrone. The awards will be handed out on February 21st.

10.28.03 - Get your very own Bender.

9.6.03 - From the September 6th issue of TV Guide: The Face Behind the Voice

Name: Billy West Lip service: Voice of the red M&M Words worth: Originally a guitar player (he opened for Roy Orbison), West says voice artists are not unlike musicians. "You've gotta create heavens and hells and entire universes with your voice box." Mouthing off: Though he's voiced everyone from a red candy to Ren and Stimpy, West admits it's his role a 31st-century slacker Fry on Futurama that he loves most. "Fry's more me than any other character. He's just a 25-year-old version of me." —Daniel Roberts

8.28.03 - Season 2 is finally out on DVD, and is available at Amazon.

8.14.03 - TV Guide Online: Futurama Makes a Comeback! - It's a conundrum worthy of Professor Farnsworth himself: How did Futurama blossom into a cable and DVD smash after a bumpy five-season run on Fox? Executive producer David X. Cohen credits the show's dedicated fan base, as well as a consistent time slot. As part of Cartoon Network's Adult Swim lineup, Futurama averaged 2.2 million viewers in June, a huge number for cable (the series is scheduled to return on Nov. 2). It's also doing well in afternoon reruns on TBS. Then there are the DVDs. The box set of Futurama's first season was released in March, and it sold so well that Season Two was rushed into stores this week. Cohen spoke with TV Guide Online about the show's newfound success, its future and what fans can look for on upcoming DVD releases....

8.2.03 - From the August 2nd issue of TV Guide: Futurama's Fox run is ending, but the cult-hit toon is already a cable winner. It's a conundrum worthy of Professor Farnsworth himself: How did Futurama blossom into a cable smash after a bumpy five-season run on Fox?

Set in the 31st century, the animated series has proven to be a ratings success for Cartoon Netowrk, averaging 2.4 million viewers a night in June. (The show returns to the network's lineup on November 2.) While that number–what executive producer David X. Cohen calls the show's "hardcore group of fans"–is little more than half of the 5.5 million viewers the series averaged on Fox last season, it's still an impressive number for cable. The show has also shown promise in reruns on TBS, where is has been airing weekdays at 2pm/ET since July 7.

Fox has scheduled the final original episode for Sunday, August 10, at 7pm/ET. But Cohen believes the series might come back at some point, possibly for Cartoon Network, which has expressed interest. "In my dream world, Futurama would become a Star Trek-like phenomenon," he says. "It would keep growing over the years, and suddenly there are movies and we're signing autographs for $3." -Ethan Alter

7.17.03 - Futurama received one Emmy nomination for Outstanding Animated Program (for Programming Less Than One Hour) for the episode "Jurassic Bark". The Emmy Awards will be presented live on Fox from the Los Angeles Shrine Auditorium on Sunday, September 21st.

7.3.03 - TBS will air the two animated series Futurama and The Family Guy for a special limited run, Monday-Friday, 2-3p, beginning July 7, as part of the network's continuing effort to reach young adults. The two series currently air as part of TBS sister channel Cartoon Network's Adult Swim block, where they successfully pulling in young adult ratings. Futurama and The Family Guy will continue to air as part of Adult Swim, Sunday-Thursday 11p-2a.

5.15.03 - FOX released their fall schedule today and, to no one's surprise, Futurama is not on it. The 7pm ET Sunday time slot will be filled with Oliver Beene.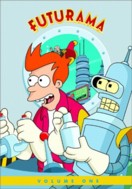 4.4.03 - The April 4th issue of Entertainment Weekly reviews the DVD Futurama Volume One (1999, Fox, 299 mins., unrated, 3 discs, $39.98). Had Fox aired Matt Groening's Futurama right after The Simpsons, rather than banishing it to 7 p.m., it would be a deserved hit instead of a now-out-of-production cult favorite. Newcomers can now discover that the hilarious cartoon portrait of Fry–a dim-witted, deep-frozen 20th-century pizza delivery boy who awakens in the year 3000–has the same incisive, silly wit as its Springfirled sister. (For example, and Animal House parody is even funnier when it stars robots.) And unlike The Simpsons' rougher first season, Futurama's was sharply paced and crisply drawn (with sumptuous 3-D animation) even in its first 13 episodes. Yes, there is true nerdery at work in this DVD set: Geeks will thank their lucky lightsabers for the dense commentary tracks where producers discuss hidden binary-code jokes and a reference to the obscure Star Wars action figure Yakface. But wary sci-fi-phobes should rest assured that underneath the hovercrafts lies pure Simpsonian satire. A –Josh Wolk
Buy it now
Pre-order the second volume, due out in September of 2003.

1.13.03 - Fox will air a one-hour Married... With Children reunion special on Feb. 16, the same night the network broadcasts the 300th episode of The Simpsons. The entire Bundy clan -- including Ed O'Neill, Katey Sagal, Christina Applegate and David Faustino -- taped the retrospective over the weekend.

9.9.02 - The Cartoon Network has acquired the cable TV rights to all 72 episodes of Futurama. Futurama will appear on Cartoon starting this January, within their Adult Swim block (10p-1a, Sundays). The five year deal, which is exclusive only to cable, will cost Cartoon in the neighborhood of $10 million.

7.22.02 - The season premiere will air on Sunday, November 10th, at 7pm ET.

7.18.02 - Futurama was nominated for one Emmy Award for Outstanding Animated Program ("Roswell That Ends Well" episode). The Emmy Awards will air live on NBC on September 22nd, 2002.

6.5.02 - Matt Groening interview by 'Big' Jim Pickard for SF Crowsnest.

5.16.02 - FOX unveiled their official fall schedule today, and as usual, Futurama will have the 7pm ET Sunday time slot after the NFL season is over.

4.30.02 - FT.com: Staying animated - an interview with Matt Groening covering The Simpsons and FOX's bad handling of Futurama

4.2.02 - Matt Groening was interviewed for TV Guide's recent "TV We'll Always Remember" article in their April 6th issue: Dick Cavett was a witty and erudite ringmaster worth staying up way past my bedtime for, and night after night I'd watch him handle such cultural titans as Orson Welles and Groucho Marx, along with Jimi Hendrix, Janis Joplin and Frank Zappa. And then there was the time Salvador Dalí came out carrying an anteater, which he proceeded to dump in the lap of Lillian Gish, while Satchel Paige looked on in disbelief. But my all-time favorite moment came when Zero Mostel was the guest host for several days and completely ran wild. He not only kissed the camera lnes—he French-kissed it.

3.19.02 - The ABC pilot 8 Simple Rules, starring John Ritter, has added Katey Sagal to play his wife.

3.8.02 - Entertainment Weekly reports that none of the broadcast networks have animated shows in development for fall, and it's unlikely we'll see a return of Futurama and Family Guy (they average a pathetic 6.2 million and 4.7 million viewers, respectively, this season). "Like any good program, it's gotta be good, and animation is not enough to carry a show," says analyst Tim Spengler of Initiaitve Media North America. "The netoworks are not trying to force the genre, which is good."

3.6.02 - In an as-yet-untitled pilot for ABC about a married couple who are also Wutan Temple warriors who fight evil, Lauren Tom and Byron Mann have been cast as the parents; Rona Figueroa and Danta Basco will play the kids.

3.1.02 - Zap2It.com: Celebration of 'Futurama' is Bittersweet - - "Futurama" could be called a "gift to animators." Creator Matt Groening told audience members that he always wanted to do a science fiction series Thursday night (Feb. 28) during the 19th annual William S. Paley Television Festival, because he wanted to work with a genre that would "show off" animators' talents....

2.13.02 - "Futurama" waiting to see if it has one
Wednesday February 13 12:59 AM ET

By Josef Adalian

HOLLYWOOD (Variety) - The future's not so bright for "Futurama."

Fox Broadcasting has told the cartoon's executive producer, Matt Groening, that it can't immediately commit to ordering any additional episodes beyond those that have already been produced for this season and next. Because of the long leadtime for animated projects, Groening needed a commitment this month in order to keep the show's scribes on staff and the skein in production for the 2003-04 season.

The network could still order more episodes down the line, though that seems a long shot. The final call on whether to revive the series should Fox order more episodes would be Groening's.

Of the 72 episodes of "Futurama" in the can, only 48 have aired. The show was preempted through most of the fall and early winter due to NFL overruns; a similar air pattern will likely reduce the number of episodes that'll air next year.

Despite virtually no promotion and frequent preemptions, "Futurama" has still managed to win its 7 p.m. Sunday slot this season in teens, adults 18-34 and adults 18-49. Executives at producer 20th Century Fox TV have already had early talks about launching the show in syndication, though no deals are close.

Reuters/Variety REUTERS

2.4.02 - Frontwheeldrive.com: Interview with David X. Cohen

12.11.01 - Fox's season premiere of Futurama helped earn the network top dog status among the A18-49 for Sunday night with a 4.7/11 overall. Futurama pulled a 3.4/10, followed by King of the Hill 3.9/10, Simpsons 6.2/15 and Malcolm's 5.9/13 demo ratings. Following Fox in the A18-49 race was ABC 4.3/10, CBS 3.2/8 and NBC's 2.8/7.

8.20.01 - TeeVee Awards 2001: Best Half-Hour

7.12.01 - Futurama received an Emmy nomination for Outstanding Animated Program (less than one hour) for the episode "Amazon Women in the Mood."

5.17.01 - On Fox's official fall schedule, Futurama will be keeping its Sunday 7pm ET time slot for its fourth season.

3.21.01 - Check out WebBuyingGuide.com's Futurama Action Figure Contest

2.6.01 - Sunday night belonged to Fox with a demo win with A18-49. Highlights included an 8.9/21 demo rating for Simpsons, Malcolm earned an 8.7/20 and X Files an 8.2/18. Futurama at 7pm averaged a 3.8/11 and King of the Hill a 5.4/14 in the demo. The competition didn't do quite as well - NBC's 90-minute Dateline a 3.5/8; Touched by an Angel a 3.5/8; Millionaire a 5.6/13; AFC/NFC Pro Bowl 2.9/7. Overall for the night, Fox averaged a 7.2/17 demo rating, ABC 4.5/11; NBC 4.2/10 and CBS 3.7/9. In total viewers the win goes to CBS with 14.4 million, followed closely by Fox with 14.3 million, ABC 13.1 million and NBC 10.8 million.

1.5.01 - Fox has renewed "Futurama" (18 new episodes) for another season.

10.25.00 - "Tucker," starring Katey Sagal, has been cancelled by NBC.

12.3.99 - "Futurama" has received a People's Choice Award nomination for favorite new TV comedy. The awards will be presented on January 9th, 2000, and the ceremony will be broadcast on CBS.

8.31.99 - Billy West has been chosen to be the voice of the Screen Gems Network from Columbia TriStar Television Distribution. The new daily programming service will show classic Columbia Television titles from the '50's through the '80's and offer broadcast stations product for daytime airings. The service will launch September 20th, and West will narrate an array of interstitials, from flashback facts and vintage commercials to conversations with original show creators and trivia segments with quirky themes.

7.22.99 - "A Big Piece of Garbage" received a 1999 Emmy nomination for Outstanding Animated Program.